A MIRACLE BIRTH - SADIE HAS PUPPIES,
November 9, 2006.

After I found Sadie in my front yard five years ago I took her to the vet and they told me she was fixed. So I always assumed she was. Well, out of the clear blue sky today she had puppies.

It was a strange situation from the start. Phillipe is no longer living with me. He came over to get some things from his old room. We were going to have lunch when I heard a crying sound. I thought it was the big dog Philly. But he was sitting quietly in the garage. So I asked Phillipe if he saw Sadie. He said he thought she was in the back yard. I opened the door to the yard and saw Sadie. Something was strange. She looked like she had something hanging off her butt. I yelled to Phillipe, "Something is wrong. It looks like Sadie has a rat stuck to her ass." He came running over and at first didn't know what it was. Then he looked closer and said, "that isn't a rat, that's a puppy." And that's how it all began.

We found the first puppy dead in the garage. We never knew she had given birth. We carried her to the old couch in the garage after the second puppy lived and helped Sadie with the others still to come.


Phillipe's girlfriend Dorisann helps get the second puppy out, 2:20 p.m.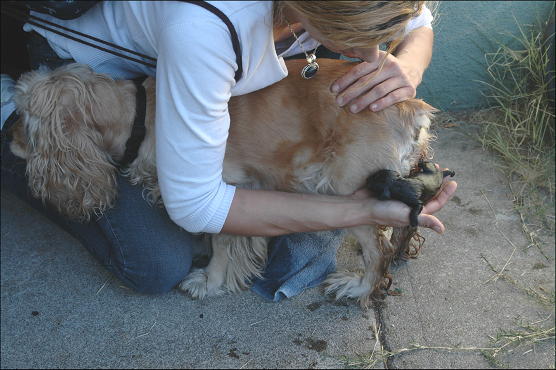 It looked like it was coming out of her butt.


Dorisann cuts the cord.


A second puppy came out and was alive and kicking.


When the next puppy popped out it appeared dead. Sadie licked it and the puppy started moving.


Phillipe holds the first two puppies to survive.


A closeup of the first two puppies to survive.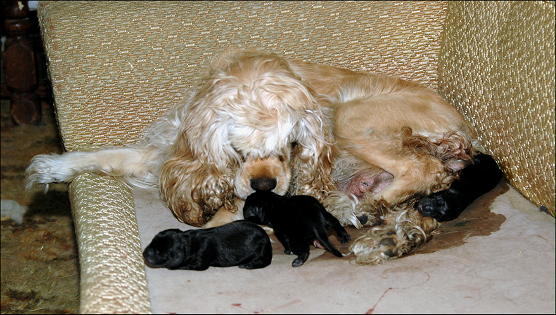 Sadie with her three puppies, 3:53 p.m.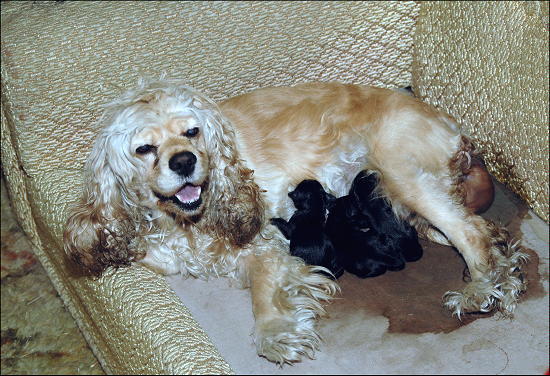 Another puppy is about to come out, 4:15 p.m.


The last puppie to come out is brown, not black like the others.
It looks like an alien to me.


Sadie licks the puppies.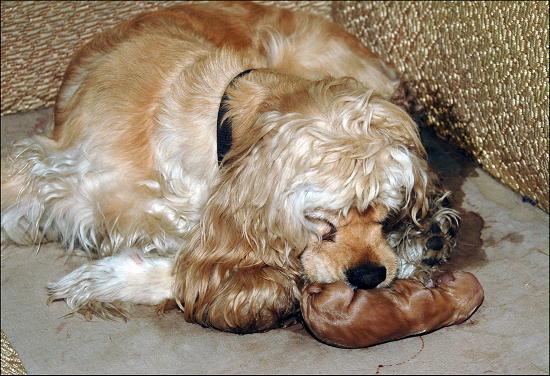 Sadie had five puppies. One died, four survived.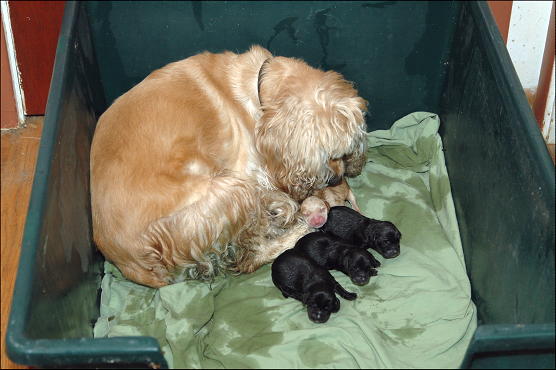 I put Sadie and her puppies in the hallway next to the bedrooms so we can keep an eye on them.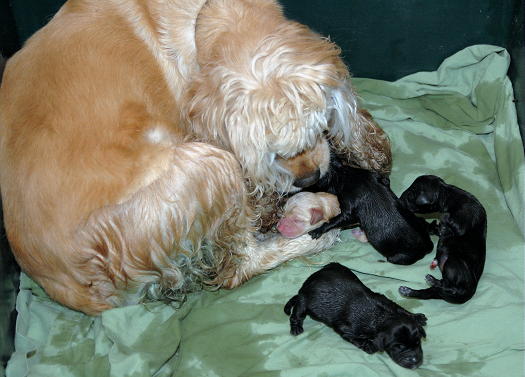 The one brown puppy really stands out.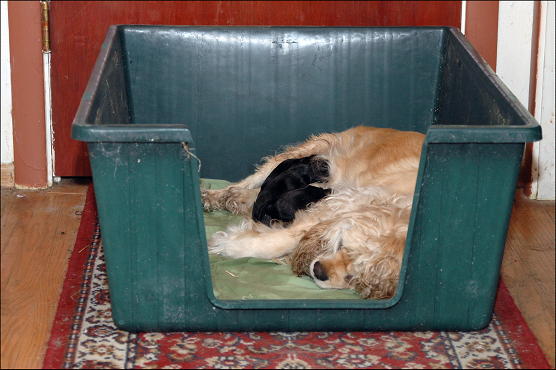 Sadie and the puppies rest. Wow! What an afternoon! And I didn't even know she was expecting.

I should also mention when I told the vet today what happened she said the scar was probably not from being spade, but from a C-section.

WELL THAT'S ALL FOLKS! I WOULD LOVE TO HEAR ANY FEEDBACK. FEEL FREE TO SEND COMMENTS TO:
Philflash@AOL.com
THANKS!